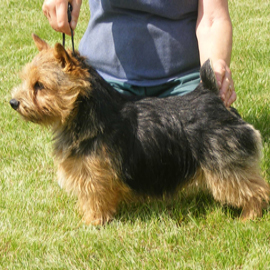 My husband Tom and I moved to a rural location buying a bungalow with a tiered quarry one acre in size used as a garden. This was filled in to house 2 greenhouses and a Dutch house (cold type of greenhouse). We became a plant Nursery from which Dahlia plants were distributed all over Great Britain. We began with West Highland White Terriers, had some success in the show ring and with breeding. Combining the running of the Nursery and grooming the Westies all proved too much before a show. Something had to change as by this time we had been hooked on the Show Scene.
Consequently we looked around for another breed, the Norfolk Terrier caught our eye. We began with a bitch from the Nanfan kennel. With the white Westie and the red Norfolk the name of Rouletta was chosen for our Kennel name.
Rouletta is a red and white trailing geranium and adorns our hanging baskets each year. Norfolks took over and the Westies gradually decreased. Another breed caught our eye, Norwich, lovable dedicated dogs who got on with other breeds very well.